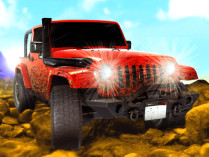 Revolution Offroad
Revolution Offroad belongs to the extremely attractive 3D game genre. The game will take you on adventure with extremely cool cars.
All that is asked of you is to arrive at the finish line in a responsible manner in your off-road vehicle. Check to see whether there is any gas left in the tank. As a result of the fantastic experience provided by this game, the offroad racing simulation genre is poised to undergo a significant transition. There are various other modes of play available, including a career path, time attack mode, and free play. If you want to make it across the field in your off-road car, you'll need to move slowly. After completing each assignment, you will be able to unlock its prizes, which can be spent to either improve or acquire additional vehicles.
How To Play Revolution Offroad
WASD or the Arrow Keys to move. Camera mode is set to "C," and the "R" button restarts the process.