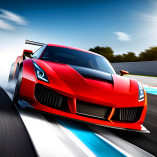 Real Drift Multiplayer 2
Real Drift Multiplayer 2 is a game where you can perform beautiful drifts and compete with other players in multiplayer racing mode.
In this game, you can choose your race automobile from among a large variety of sports cars, supercars, classics, and other types of vehicles and then enhance it. Your vehicle's acceleration and performance can be enhanced through the installation of various modifications and upgrades. You will be able to compete in races against other gamers from all over the world if you play Real Drift Multiplayer 2. You have the ability to challenge other players to high-speed races or exciting adventure games, and the victor of these competitions will receive a reputation boost.
How To Play Real Drift Multiplayer 2
Following the game's instructions, you can save money to upgrade yourself to new cars.