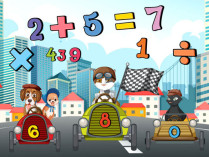 Math Memory Match
Math Memory Match is a combination of games and math. What could be better than learning math while playing puzzle at the same time?
Boys and girls of all ages, from toddlers to adults, can play this game. Some of the cards in the deck have math equations and numbers written on them. This mathematical car memory game is a fun way to pass the time while driving. Just do the math in your head before picking a card, and then look for the other card in the pack with the same number. If the cards' values are the same, they will stay out. If not, you will lose one of your three lives. You don't have to guess to find a pair of matching cards among the ones you can see. Each number is the answer to an equation. Make sure you win by taking your time and counting correctly. To win the level, you have to find a pair for every card on the board.
How To Play Math Memory Match
Use mouse or touch pad to play this game.