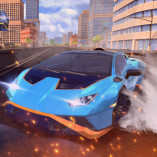 Hurakan City Driver HD
Hurakan City Driver HD is an exciting racing game in which players can experience the feeling of high-speed driving in the city of Hurakan.
In this game, you get the chance to race a wide range of high-end supercars, each with their own unique characteristics. Maintain order among them as you navigate the expansive city streets. You can choose to compete in exciting races against other players or simply explore the city at your own pace. The game has a diverse assortment of automobiles, ranging from high-end supercars to lightning-fast sports cars. You can customize and improve your car in order to improve your driving performance and be victorious against opponents who are difficult to beat. Get ready to rule the roads of Hurakan and earn your place in the annals of driving lore!
You can refer to games of the same genre such as:
How To Play Hurakan City Driver HD
On the track you will see goals such as coins or scores. Try to collect them to earn points and improve your achievements.