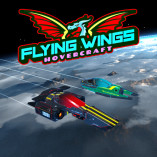 Flying Wings HoverCraft
Flying Wings HoverCraft is a 3D game where you can race in a variety of terrains. There's a lot of fun in this race. Discover now!
There are a variety of amazing neon towns, futuristic cars, and many game modes available for you to select from. There are a lot of athletes who have incredible speed. The game features sound effects that are both energetic and entertaining. There is a huge variety of body types for automobiles to choose from. You have a choice among the various options. You'll need to devote a lot of time to the game if you want to achieve your goal of driving the best car possible.
How To Play Flying Wings HoverCraft
Click to play