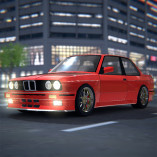 E30 Drift Simulator
E30 Drift Simulator is a drift driving game with high-quality graphics and a great driving feeling. Let's perform a technical drive.
This game features the well-known BMW E30 automobile, giving players the opportunity to experience what it was like to perform fantastic stunts while behind the wheel of the real car. You have the freedom to discover new places and show off your driving skills anywhere in the world. You'll have a good time playing the game regardless of whether or not the E30 car is included. In this racing game, you may rack up points by drifting your E30. Adding some of these specifics to your E30 car purchase will make it possible to further customize the vehicle.
Related Games
How To Play E30 Drift Simulator
You can drive with the up/down/left/right arrow keys or the WASD keys.

To dodge obstacles and change lanes, you can use the up and down arrow keys.