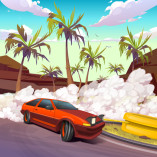 Drifting Mania
Drifting Mania is a fascinating racing game where players have a chance to become top drift racers. Play now to show your racing talent.
To perform a perfect drift, you must guide your car around complex turns and spins. The vehicle's customization options make it possible to turn each race into a work of art by altering parameters such as speed and spin angle. Not only can you show off your drifting skills in competitions, but Drifting Mania also provides a free mode to refine your driving ability and a leaderboard to see how you compare to other players. You go to work every day so that you can save enough money for a newer, better car.
How To Play Drifting Mania
The objectives of each stage may vary, but typically involve completing a race within a given time limit, passing through checkpoints, or placing higher than the other players. Make an effort to complete these tasks so you can progress further in the game.