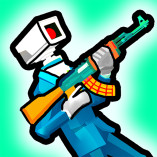 You vs 100 Skibidi Toilets
You vs 100 Skibidi Toilets Your mission is to destroy all the Skibidi toilets before they get close to you. Let's play to win Skibidi.
Playing as a courageous hero, you'll have to do whatever it takes to stay alive in this brutal conflict. On this adventure, you will have access to a variety of weapons and other helpful items. You are going to need all of your wits about you in order to evade the attacks of the Skibidi Toilets and uncover their weaknesses. The breathtaking images and the immersive sound design will make the adventure feel even more real than it already does. The challenges that lie ahead in this game can be surmounted with adequate preparation and previous gaming expertise.
How To Play You vs 100 Skibidi Toilets
To change your viewpoint, click and drag the mouse, and to control your character, use the arrow keys.