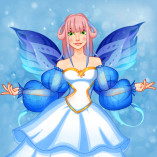 Winter Fairy
Winter Fairy has very beautiful fairies, but they don't know how to dress. Help them find the most appropriate and fashionable clothes.
You have no idea how much assistance the young and inexperienced forest fairy requires from you. The fairy would greatly benefit from new clothes, shoes, jewelry, cosmetics, and a haircut. The Winter Fairy has created a wintry oasis where you can unwind with a haircut and some frozen beauty products. Preparation is still necessary for a beautiful forest to be ready for the colder months. A simple snow clearing can be transformed into a magical winter wonderland with just a few waves of the wand. Put on the fairy's outfit and take in the breathtaking beauty of the contrasting light and dark blues.
How To Play Winter Fairy
The player's actions, such as clicking the mouse or touching the screen, are typically translated into game input.