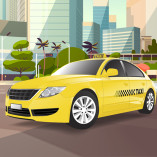 Taxi Driver
Taxi Driver is a cool car game. Let's play the role of a taxi driver and explore the crowded city with many interesting missions.
Discover what it's like to drive a metered car in a professional manner and earn money by picking up and dropping off customers. Run through the most insane traffic, but exercise caution because it is a little lost. Fortunately, you will make more money if you can move as quickly as a comet. Players will come across a variety of consumer requests throughout each level, including those for speedy destination transportation, city tours, or help finding their way to a particular spot. Players can also select and upgrade from a selection of taxis in the game, ranging from compact to luxurious vehicles with night and day settings and dynamic weather.
You can refer to games of the same genre such as:
How To Play Taxi Driver
You can change the speed by pressing the "down" or "up" buttons. The car can be moved left or right by using the left and right buttons.