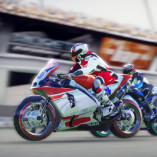 Super Bike Wild Race
Super Bike Wild Race is an exciting motorcycle racing game where you participate in wild and thrilling racing. Let's play now!
Immerse yourself in the exciting world of high-octane racing and have the time of your life. You're about to witness a breathtaking display of state-of-the-art super motorcycles that will take your breath away. Prepare to let loose your inner speed demon in races that will test your abilities to the utmost. The lights are on, the music is loud, and the anticipation is building. Are you prepared to dive headfirst into the exciting new experience that awaits you and race against the clock? You get to decide. The game challenges you to master the controls of a racing car while guiding it through thrilling environments.
Related Games
How To Play Super Bike Wild Race
Not too easy and not too hard to learn. To get to the top, you need to improve both your bikes and your riding skills.