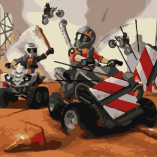 Rude Races
Rough Races is an action-packed racing game. Here, you can race your car at very fast speeds. Showed up and was declared the winner.
Because there are so many ATVs with interchangeable body parts, you can make your ride unique and get into a fierce fight. Arm yourself and join the fight against the impolite races. This is the best thing to do if you don't like the rules. Success doesn't depend on how fast you are.
The game is fun to play because it has a system that is easy to pick up and play and keeps getting harder.
How To Play Rude Races
A or left arrow key to move left

D or right arrow key to move right

Space to swing weapon, L-Shift to turn 360

Left-click on the power-up button = use the power-up X and C keys to use power-up