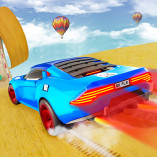 Mega Ramp Car Stunts
Mega Ramp Car Stunts transport you on a high-speed car ride. It's very realistic 3D car movement. Let's play it right away.
You have access to a wide variety of automotive makes, models, and body styles to choose from. The visually appealing aspects of the game are only part of what will have you coming back for more. The game also features some incredibly difficult challenges. Because the driving car environments in this game are so varied, there won't be any time for players to get bored. Enjoyable, relaxing gaming noises The objectives of the game are to get inside the automobile, drive it, and arrive at the finish line in the shortest amount of time feasible.
How To Play Mega Ramp Car Stunts
Press W,A,S,D or use arrow key.