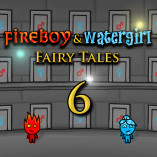 Fireboy & Watergirl 6: Fairy Tales
Fireboy & Watergirl 6: Fairy Tales is the newest in the Fireboy and Watergirl series. It has many exciting adventure. Play now to see.
This takes place without the need for any action on the part of the character. The focus of this episode, much like those of the previous ones in the series that came before it, is an overarching concept. A big problem is that the team has to hurry to get the jewels from each temple before time runs out. This episode of Fireboy and Watergirl, which is part of the sixth season, features a total of 31 different obstacles. In order for you and your team to reach the objective, you will need to work together to solve a number of riddles and avoid being caught in traps.
How To Play Fireboy & Watergirl 6: Fairy Tales
Fireboy Controls: Make forward progress by using the left and right arrow keys. To Make a Jump, Push the Up Arrow.
Watergirl Controls: Equal to the sum of the forward movement (W) and the backward jumps (B) (B).