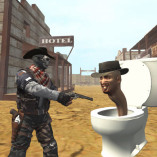 Cowboy vs Skibidi Toilets
Cowboy vs Skibidi Toilets is a game full of challenges and differences. Let's play to join the battle between cowboy gunmen and toilets.
The game features an extensive variety of stages and missions, ranging from saving animals that have been abducted to taking on the most formidable assailants. In order to survive difficult combat and avoid hazardous restrooms, players must use their weapons and talents. As a cowboy, your goal is to use a variety of weapons to shoot every Skibidi toilet. You must survive each round in order to acquire new weapons. In order to gain an advantage in combat, players can also enhance their tools and abilities. Cowboy vs. Skibidi Toilets presents a distinctive blend of humor, action, and strategy. Are you prepared to take part in this demanding journey?
You can refer to games of the same genre such as:
How To Play Cowboy vs Skibidi Toilets
Use the mouse to select and control the character.