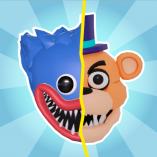 Catch Huggy Wuggy!
Catch Huggy Wuggy! It is an extremely thrilling and horror chase game. You will have to act and use your mind to get the highest score.
When you put your hand out, you can use it to control the machines around you. In this action game that never stops, you'll have to run follow Huggy Wuggy as he goes through more difficult environments and more dangerous enemies. Use the hook's long reach to sneak up on your enemies, get inside their stronghold, and hit them hard. You can hit them before they even get close to you with your long arms. But you have to move quickly, or you might get hurt and have to start over.
How To Play Catch Huggy Wuggy!
Using a touch or mouse click: click on various objects or enemies to interact with them.