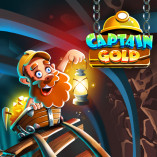 Captain Gold
Captain Gold contains a lot of gold and treasure. Let's conquer this hypercasual game by exploiting all the mysterious things around us.
The player smashes stones and gold to help the protagonist collect them. mines gold, gems, and rubies outside the city. Minerals are abundant. The hammer must smash the jewels, money, and precious stones. Collect them and have him bring his cart of supplies to the battlefield. Press the screen to continue. Every mine allows three "hammer" efforts to smash stones. Common stones get one point, gold two, and diamonds three. You lose if you can't clean the board in three turns.
How To Play Captain Gold
Shatter the stones with your hammers if you can time it right.