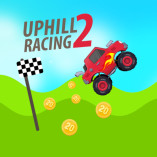 Up Hill Racing 2
Up Hill Racing 2 is a fun and dramatic racing game. In this game you will participate in the race on the challenging and extreme hills.
Your mission is to drive as swiftly as you can across the treacherous hilly terrain while maintaining control of your car until you reach the finish line of the course. To make it through the dangerous roads without losing control of your vehicle, you are going to need both good driving skills and a lot of patience. The aesthetics and soundtrack of Up Hill Racing 2 are rather simple, but they are nevertheless engaging, and they help build a frantic and intense tone that continues throughout gameplay. Your travels will take you from verdant heights to barren wastelands along the way.
You can refer to some similar games like:
How To Play Up Hill Racing 2
As you race through this car simulation, use the arrow keys to navigate and the mouse to select alternatives.