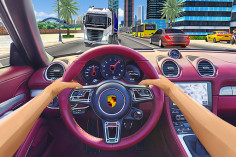 Traffic Jam 3D
Traffic Jam 3D is a speed game. You will enter the character's first-person perspective for the ultimate and exciting racing experience.
The game has amazing 3D graphics and talks about a lot of interesting things. Prepare yourself for the wildest and most exhilarating race you've ever participated in. Further information regarding your driving history can be found on the Driver Points and Driver Stats page. There are many different kinds of timed competitions, such as those in which players compete to be the first at a certain location, amass a certain number of points, or travel a certain distance in the shortest amount of time. There is a large variety of music to choose from. You have the option of driving through the city, the desert, or on a highway when you set out on your journey.
How To Play Traffic Jam 3D
The only thing that is necessary is straightforward navigation using the WASD or arrow keys.