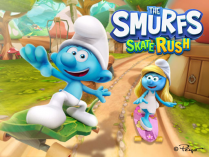 The Smurfs Skate Rush
The Smurf Skate Rush is a 3D game with loud sounds and bright colors. Once you start to play, you won't be able to stop.
Because the game is easy to play, people of all skill levels can enjoy it. Use skateboards to help the Smurfs avoid danger. Don't run from danger; get through all the obstacles and get as many points as you can. After you finish each level, you can collect bonuses that you can use to buy real skateboards or other things in shop.
As the game goes on, the speed will pick up quickly. So, move quickly if you want to get a good score.
How To Play The Smurfs Skate Rush
Use the up arrow to skate up the ramps and over the logs, or grind across the rails.

Tap the down arrow to duck and slide under the wooden signs.