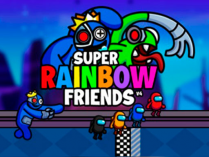 Super Rainbow Friends
Super Rainbow Friends is a running game. You will participate in adventure with the uncles among us. Let's escape from the enemy.
You'll need to stay one step ahead of your adversaries if you want to make it all the way to the end of this fast-paced action game. In order to unlock additional characters, you will need to prove that you are the most skilled racer by coming out on top against the other players. During your adventure, you will face off against other players in a number of different minigames. The goal is to stay alive and beat anyone who dares to challenge you.
How To Play Super Rainbow Friends
Use the mouse one click to jump and two to double jump

Mobile and Tablet controls: Tap the screen to jump and double tap to double jump