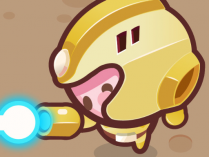 Slime Hunter
Slime Hunter is a game where you shoot things. The game's skill structure makes it easy to start a great carnage, and the retro 2D pixel graphics and good viewing angle only help. In spite of its limited visuals, the game has a unique, varied, and very eye-catching skill system, which is without a doubt the part that gets players most excited. Thanks to the game's bright colors, which create an exciting atmosphere of smoke and space with falling alien objects, players will have a one-of-a-kind experience.
The things that slime makes are not cute pets. Come play, there's so much slime to kill 'Gotta kill 'em all.
How To Play Slime Hunter
Click to play, use mouse.
If you want a better gaming experience, you can play the game in Full-Screen mode. The game can be played free online in your browsers, no download required! Did you enjoy playing this game? then check out our .IO game