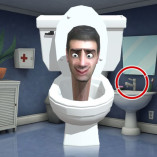 Skibidi Toilet Find the Differences
Skibidi Toilet Find The Differences is a game. Here, you are challenged to find small differences between two images of Skibidi toilets.
On Skibidi, you need to identify the differences between two pictures of loos. Changes can be made in the form of new colors, changes, or even entirely new places. You'll win if you can find all the inconsistencies within the given time limit. The game's adaptability to your skill level means you'll never run out of challenges to overcome. It will take a sharp eye to notice the inconsistencies throughout the entire bathroom. Playing Skibidi Toilet: Find the Differences will put your observational skills to the test. There's potential amusement in tracking down differences so finely nuanced that they matter.
To find another game like the one you just finished playing. Let's play the Skibidi Toilet Mayhem, Crazy Cameraman Skibidi game.
How To Play Skibidi Toilet Find the Differences
Use your mouse and click on the difference.