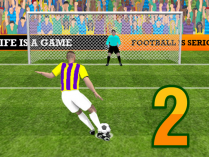 Penalty Shooters 2
Penalty Shooters 2 lets you control a professional soccer player on the world stage and attempt to score by kicking a penalty into the goal.
There are a total of 12 teams that can compete, and it's up to you to choose which one will represent your favorite country. The game's original music is a lot of fun to listen to and is very upbeat. Mixing music with visually appealing images brings a lot of joy and pleasure to the listener.
Your team will be split up into smaller groups so that you can fight the powerful enemy in more intense one-on-one battle. To move on to the next round of the playoffs, you must finish in the top two of your group.
How To Play Penalty Shooters 2
Use mouse or touch to select aim when shooting, or to determine where your goalkeeper will dive when defending.