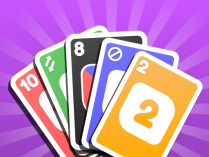 Ocho
Ocho is a game that requires high intelligence. This is a multiplayer card game that will bring you many interesting experiences.
To get rid of all your cards before your opponents do, you have to race against the clock. The classic version of this game can be played with two or more people, and up to eight people can play at once. During team play, you can choose between games with 2 player, 3 players, 4 players, or 6 players. In the faster version of the game, there are no obstacles, and you don't have to say "UNO" like in the classic version. The game can be played both in portrait and landscape mode. See who can get rid of their hand first by matching cards of the same color or number.
How To Play Ocho
Click on the card to pick it from your stack.