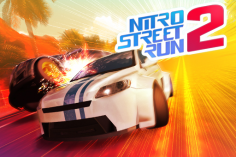 Nitro Street Run 2
Nitro Street Run 2 is a competitive racing game. Do you have what it takes to win against tough opponents? Prove it to us now!
The game gives you access to a vast inventory of moto vehicles, each of which is available in a comprehensive selection of makes, models, and body configurations. Because the system has been upgraded and the graphics have been improved, the quality of the game has recently gone up. You will be able to recreate some of your most memorable moments in brand-new game modes such as the Classic Race, Takedown, Escape the Cops, and Duels. When you get together with a group of friends to play this game, you're practically guaranteed to have a good time.
How To Play Nitro Street Run 2
Click or tap the screen to race.