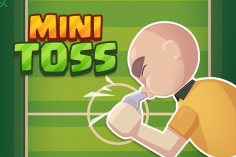 Minitoss
Minitoss is an interesting and unique soccer game. It is so interesting and fun that you won't be able to stop playing it.
You'll feel like you're right in the middle of a fierce football battle between two people thanks to the simple graphics and exciting sounds. For each encounter, you have three minutes to get as many points as possible. Only if you get the ball into the goal can you score. You won't score if the ball gets to the edge of the goal after being close to it. Red and green are used to show the two groups. You can compete on either of two teams.
How To Play Minitoss
play with the mouse.