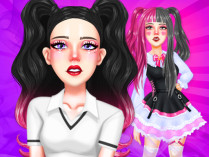 Jiraikei Aesthetics
Jiraikei Aesthetics is a fashion game for girls. You will be transformed into a character; choose the best hairstyle and outfit. Play now!
You will be assigned in this dress-up game for girls and kids to give the game's heroine a look that is both bright and distinctive, in the Jiraikei fashion that is characteristic of Japan. This game is intended for younger children. Develop the Jirai Kei aesthetic in a manner that is distinctively your own. The number of possible combinations for your manicure, makeup, hair, and outfit ranges from one to five. You'll find a variety of pink and black tones, in addition to a makeup technique that imitates eyes that are red and puffy from crying. In this look, the hair is typically twisted into two ponytails at the back of the head, but it may also be left loose. The ends are held in place with hairpins and ties. You can find lipstick in any hue you like, but the most prevalent shades are red, pink, and purple.
How To Play Jiraikei Aesthetics
Click to play.