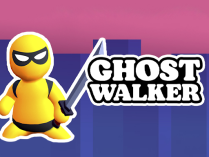 Ghost Walker
Ghost Walker, an action game, has a lot going for it. You'll become known as the ninja who went on the hunt for trustworthy criminal lords.
This game's controls are very responsive, and the way you play it will blow your mind. Before you can reach your goals, you have to get rid of the bosses. You can go to them and kill everyone there, or you can choose not to. In this game, you can try to become a master of melee weapons who is both fast and very strong. You can become a legend if you manage to capture this amazing feeling of evasion for yourself and beat all of the robbers without getting hurt.
How To Play Ghost Walker
Computer: Hold the cursor on the screen and move in the direction you want to move.

Mobile: Touch the screen and swipe in the direction you want to move.