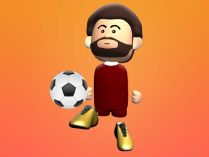 Football Juggle
Football Juggle is a 3D football game. You don't have to be concerned about the weather because you can play indoor football via computer.
This game is more than just keepie-uppies; it's all about the basics of freestyle soccer. The game is easy to play. Basically, all you have to do to kick the ball is tap on the legs of the soccer player.
At the top of the screen, you can see how many touches each challenge requires. So, if you want to move on to the next level, you have to kick the ball a certain number of times without letting it fall. The ball also responds to how hard and where you kick it.
How To Play Football Juggle
Pick the foot and take direct control of the ball. Feel every touch. Weigh every kick.