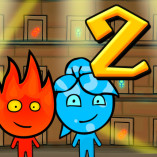 Fireboy And Watergirl 2 Light Temple
Fireboy And Watergirl 2 Light Temple is the sequel to Fireboy And Watergirl. Let's go with them to solve the puzzle and win this game.
In contrast to the problems that may be found in the Forest Temple, the Light Temple does not feature any such obstacles. The creation of the game focused greatly on combining a diverse array of technological approaches into a single, cohesive whole. Some of the mirrors have been installed there in a way that would ensure they remain there permanently, while others are kept in containers and may be transported from one temple to another. In this game, just as in the previous one, you have to keep the water and fire elements separate. In order to shed light on formerly inaccessible locations, light can be redirected through a maze-like arrangement of mirrors and detectors.
How To Play Fireboy And Watergirl 2 Light Temple
You may move about using the WASD keys as well as the arrow keys. Inside the settings menu on a mobile device, you'll find the ability to adjust the controls.