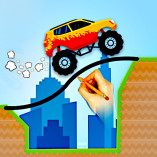 Draw and Save The Car
Draw And Save The Car will give you the task of using your brain to bring it to safety. Play the game now to test your intelligence.
As you progress through the game's levels, you'll face a wide range of enemies and obstacles. Putting together the coin rewards you've been given after completing missions Draw a bridge that will help the vehicle get to its destination more quickly and easily using your artistic skills. As you progress through missions, you'll gain access to better vehicles. In total, there are 200 levels, and they must be completed in the specified order before you can set out on your perilous adventure. As a result, you should put more thought into making strategic drawings.
How To Play Draw and Save The Car
It is necessary to use the MOUSE to draw the BRIDGES.