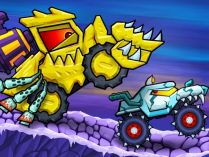 Car Eats Car: Arctic Adventure
In Car Eats Car: Arctic Adventure, you need a lot of skill to drive. Get ahead and win by destroying the car of your opponent.
There are many cool moto models in the game. Those who play the game often will eventually get a great, one-of-a-kind ride that they can show off to their friends. It's fun to play with friends, but it's even more fun to challenge them to a game. Many race are likely to be very close. Use your skills to beat the other teams and win. Don't forget to stop by the store and get some necessities.
How To Play Car Eats Car: Arctic Adventure
Press space - Bombs, X - Turbo,W - Gas, S - Brake and A, D - Balancing