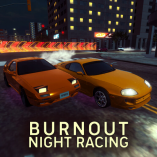 Burnout Night Racing
Burnout Night Racing has amazing 3D graphics. When the sun's rays go out, that's when the top car races begin. Are you ready?
You will get the chance to exhibit your driving prowess in the unblocked version of this drifting game. Take your supercar out for a spin on the open road and see how you stack up against the best drivers the city has to offer. By adding modifications to a vehicle, you may personalize it to your tastes and transform it into something that is distinctively yours. If you read the manual that is included with the game, you will find out that there are a few different ways to drive and that as you make your way farther into the game, more options will become available to you.
How To Play Burnout Night Racing
You may control the car with the arrow keys, and you can use the space bar to brake and the shift key to activate the nitro boost.