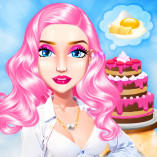 Blondie in the Real World
Blondie in the Real World is an imaginative adventure game that immerses players in the real life of Blondie. Let's play now!
By letting their imaginations run wild, players can alter Blondie's outfits, accoutrements, and stereotypes to express themselves and make the game uniquely their own. Blondie is content in her idyllic doll world. Though content, she eventually comes to the realization that something is amiss in her life. Her existence is too idealized and manufactured. In the game, players assume the role of Blondie and venture out into the real world to investigate a variety of intriguing and difficult objectives. Blondie needs your assistance to navigate through stages, defeat adversaries, and reach the finish line.
Related Games
How To Play Blondie in the Real World
Use the mouse to choose outfits for the girl in the game