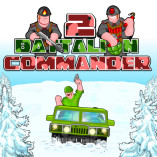 Battalion Commander 2
Battalion Commander 2 is a shooting war game. You will have to create an army of your own and act to protect everything from the enemy.
Several times during the course of the game, you will have the opportunity to complete tasks, gain gold, and advance levels. You will have access to an unimaginable number of enhancements and conveniences once you have enough gold coins in your possession. To protect yourselves and the region from the strange occurrences that have been reported in the north, you should arm yourselves with firearms, rocket launchers, and grenades. Your adversaries are extremely dangerous; therefore, it is imperative that you protect your fortifications. What makes up your army will be determined by the choices you make in this conflict. However, despite the simplicity of the game's aesthetics, the gameplay is absolutely excellent. If you start playing right away, you'll be able to take part in the most intense battle ever.
How To Play Battalion Commander 2
The team will move wherever your cursor or finger goes. To use a skill, simply click or tap its corresponding button.