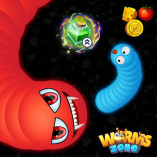 Worms Zone a Slithery Snake
Worms Zone A Slithery Snake is a unique multiplayer game that brings you into the .IO world. Help the snake eat as much as possible.
You ought to begin the development of the worm as soon as humanly possible. Everyone who has really attempted to capture a live anaconda is aware of how challenging the task is. This one is always on alert since it is aware that the real deal is constantly moving and searching for something to eat. As a result, it is always vigilant. Nevertheless, a more formidable foe is always hiding in the shadows, just waiting for the opportunity to savagely devour you when the time is right. When it comes to food, the worms are true connoisseurs in every sense of the word. They won't be picky eaters and will eagerly nibble on anything they can get their paws on, even the many different kinds of gelatinous goodies.
How To Play Worms Zone a Slithery Snake
You steer the worm with the mouse, and pressing the space bar makes it move faster.