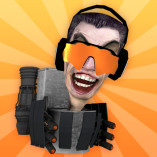 Skibidi Toilet IO
Skibidi Toilet IO is a funny action game where you will participate in a very unique battle between characters who want to use the toilet.
Taking charge of a small character, your task in this game is to guide him to specific locations on the map designated as restrooms. Expand your horizons. To unlock new skins, defeat opposing Skibidi Toilet teams. You will have to fight and compete against players from all around the world in order to have your own bathroom area. To further avoid obstacles and dangers like holes, explosives, and other brainteasers, you must exercise more caution. Skibidi Toilet IO promises to bring you hours of exciting fun with its simple yet very beautiful graphics, fast-paced gameplay that is constantly changing, and the option to control your own bathroom settings. Now claim the restroom in this game and showcase your skills!
Related Games
How To Play Skibidi Toilet IO
To choose and manipulate the character, use the mouse.