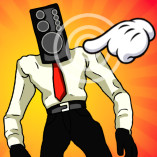 Skibidi Toilet Clicker
Skibidi Toilet Clicker is a clicker game. You have to make continuous clicks to complete the levels and earn money to upgrade the toilet.
A cute little character that transforms into a cleaning staff is played by the players. It is your responsibility to manage the public restrooms and respond to users' needs by selecting the appropriate toilet. Accumulate a diverse array of armaments, each possessing distinct capabilities and devastating potential. Working rapidly as a large number of customers rush to the bathroom is imperative if you want to prevent the toilet from overflowing above the water line. This game, which belongs to the Skibidi gaming series, was made by the Phoenix Game Corporation. The Skibidi Toilet Clicker offers hours of leisure and amusement.
You can refer to games of the same genre such as:
How To Play Skibidi Toilet Clicker
Clicks to finish each level.