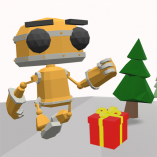 Running Bot
Running Bot will put you in charge of a lovable 3D robot. Give the robot as many opportunities to succeed as you possibly can.
The robot is still by itself and has not received any presents, despite the fact that Christmas is drawing near. Give him the best possible gifts by helping you select the nicest and most gorgeous ones. Collect the energizing things in order to enjoy a greater number of rewards (shields, magnets, and magical wings). Put in as much effort as you possibly can to improve upon your previous performance and climb the ranks.
The game is not difficult to learn how to play because the controls are straightforward. You must guide your robot to safety by guiding it around hazards such as trees and rocks, and you must also help it collect gifts to boost its health and abilities.
How To Play Running Bot
In mobile swipe left or right to move, swipe up to jump

In desktop press left or right arrow keys to move, press up arrow key to jump and press space bar to replay the game