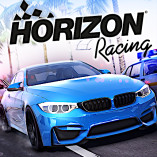 Racing Horizon
Racing Horizon is a high-speed game for boys. With high-quality graphics, the game gives players a captivating racing experience.
Racing Horizon features a wide variety of interesting game types, including competition against intelligent opponents. Single races, time trials, and a competitive racing option for showing off your abilities to pals via a network are all on the table. From bustling metropolises to open grasslands and scorching deserts, you can travel the world in search of the perfect racetrack. In Racing Horizon, you'll spend a lot of time tuning, upgrading, and personalizing your vehicles. Both the outside and inside of your car are up for grabs, with a wide variety of paint jobs, upholstery options, and extras to choose from.
To find another game like the one you just finished playing. You can play:
How To Play Racing Horizon
Use the arrow keys or the on-screen controls to steer your car.

You may control your speed and direction with the up and down arrow keys, respectively, and the left and right arrow keys, respectively.