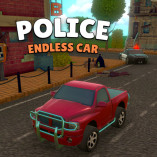 Police Endless Car
Police Endless Car is a racing game where you play the role of a professional racing car driver and face the police in dramatic pursuits.
This game's hook is its emphasis on thrilling street racing across a bustling metropolis. In order to avoid getting caught by the police and going at a high speed, you must avoid hitting any cars. The game evokes strong feelings as you overcome difficult circumstances and experience the excitement of speed racing and the life of a great racer. You'll have vivid descriptions of the hectic streets, honking cars, and racing atmosphere. There are many different types of racing cars for you to choose from, and you can modify and enhance them however you like. The game offers a wide number of game types, including both single-player and multiplayer racing, as well as a pursuit mode. Play against your friends or the entire global community.
How To Play Police Endless Car
You may control the direction of your car by using the arrow keys or the virtual controls.

Use the up and down arrow keys to increase or decrease your speed, use the left and right arrow keys to turn left or right.