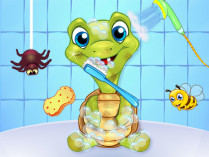 Pet Wash
Pet Wash will introduce you to the world of extremely adorable animals. This is the ideal game for girls who love to take care of animals.
After going for a stroll, the pet and their adorable companions returned filthy and disorganized. You have an immediate responsibility to assist them with their beauty requirements. Little animals love to run and play in the big outdoors, and they have a particular fondness for the shrubs and woods. The vast outdoors is a wonderful location for them. There are a total of three live entities that require your care right now. You are responsible for taking care of one of the three playable pets in this game. You can also adorn your area in interesting and unusual ways. Taking care of even the tiniest of pets or a dog can put a smile on your face.
How To Play Pet Wash
Input can be made using either a mouse or a finger.