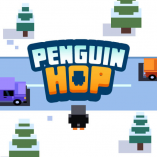 Penguin Hop
Penguin Hop is a gorgeous pixel game in which you assume the identity of a penguin and hop around, discovering the wondrous world around you.
It's fine to move the penguin to the other side of the street. You can avoid the traffic jam on the ice roads by making a few quick hops. You can cross rivers with lily pads if you need to. Keep out of the way of the cars that are driving all over the place. If you are able to pick up money along the way, you can buy other animals like walruses, huskies, elephants, and many others from the shop. Let's celebrate the holidays with the cute penguin and lots of other animals from the zoo.
How To Play Penguin Hop
Click to play.