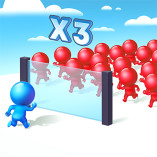 Mob Control
Mob Control assigns you the task of helping the blue man act to win over the red man. Try to defeat the enemy until the last moment.
As a direct consequence of this fact, the size of your group of followers will inevitably grow. You can also significantly increase the size of your crew by hiring additional
stickman
. If you and your fellow stickmen wish to prevail in these difficult battles, you'll need to coordinate your efforts and work together to eliminate waves upon waves of hostile figures. It will be impossible for the red folks to ruin your fun if you stay away from the red doors and push them back. Sending individuals via multiplier gates allows you to increase the size of your army as well as your chances of capturing all of the bases.
How To Play Mob Control
You can fire your stickmen in whatever direction you desire with a horizontal swipe, aiming their cannon.