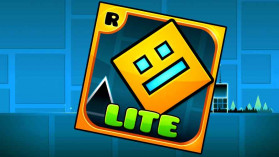 Geometry Dash Lite
Geometry Dash Lite is a fun and challenging adventure game. You'll face many formidable obstacles on your path to ultimate glory.
The level's score can be affected by how hard it is and how well it is put together as a whole. This game already has 16 levels, and the player can't make more. Not only do you have fewer ways to make your character unique, but many of the emblems and colors from the main game are also missing.
With the cloud gaming service, you can play Geometry Dash Lite on your desktop computer or mobile device without having to download or install the game. In the world of Geometry Dash, you'll face a problem that seems almost impossible to solve. Run, jump, and flip through dangerous hallways full of spiked objects to find out how far you can go. Each stage has its own soundtrack, and the music is pretty catchy.
How To Play Geometry Dash Lite
Use WASD / Mouse / Arrow keys to control in this game.