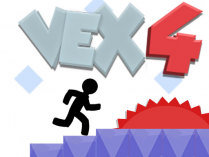 Vex 4
Vex 4 is deadly hazards make it more challenging and engaging. Globally, only 1% win. Do you believe that you are capable of doing it?
If you like to be challenged when you play action games, you should play this one. ensuring that the hugely popular Vex game series comes out on a regular schedule. To beat the game's harder challenges, players will need a wide range of gaming skills. By playing your part in the game, you can help the stickman get past the many obstacles quickly. The graphics are simple, the gameplay is interesting, and there are a lot of new things to find.
How To Play Vex 4
Move with WASD or with the arrow keys.R to restart a level.