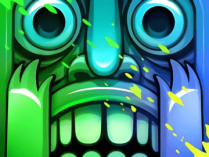 Temple Run 2: Holi Festival
Temple Run 2: Holi Festival is a great action game. You will transform into an adventurer. Find any way to escape the monster's pursuit.
All you need is to race through a magical world that never ends and is full of dangerous tunnels, rocks, and other obstacles. As you race through a historical temple looking for a missing golden idol, your reflexes will be put to the test. On your way, you'll see beautiful rainbow waterfalls and bright columns. The temple will never close because the game is a never-ending chase. Instead, the player keeps going until his or her character dies, such as by falling into water or being surrounded by bad monkeys. If you want to finish the stage, you need to pick up the bonus cash, time your jumps over the double-jump obstacles, level up your character, avoid falling off the edge by jumping a split second early, and complete the stage's goals.
How To Play Temple Run 2: Holi Festival
Use the arrow keys to navigate the colorful cityscape and avoid the monster as you run.