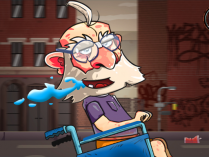 Sticky Road
Sticky Road is a physics-based video game that can be played in your browser. There will be terrible traps waiting for you.
The experience that you will have playing the game Sticky Road is certain to be great, engaging, and amusing. It is clear that your goal is to assume the persona of an elderly gentleman confined to a wheelchair, navigate your way past each obstacle, and make it to the end of the level. Always keep an eye out for potential sources of conflict in your environment, and be aware of them at all times. Do your best to make it through to the end and unlock even more thrilling gaming.
How To Play Sticky Road
To maneuver the wheelchair as you choose, use the arrow keys or W/A/S/D.
If you like racing and giving yourself challenges, you should try playing Moto X3M for a new adventure.