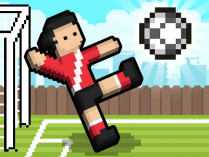 Soccer Random
Soccer Random is a soccer-related game. It will provide you with a level of excitement about football thanks to its stunning 2D visuals.
You need to experiment with one key in addition to a variety of different possibilities if you want to defeat the soccer randomizer and score a goal. Everything else that goes into the game, such as the ball, the players, and the goal posts, is the only thing that matters as much as winning by a score of five to zero. This is the only thing that matters.
The game known as Soccer Random is supposed to be played by two people, one of whom can be a computer and the other can be a real person. As a result of playing the game, the participants will have a nice time, be able to relax and unwind, and improve their relationships with one another.
How To Play Soccer Random
Use Left Mouse Button Click.